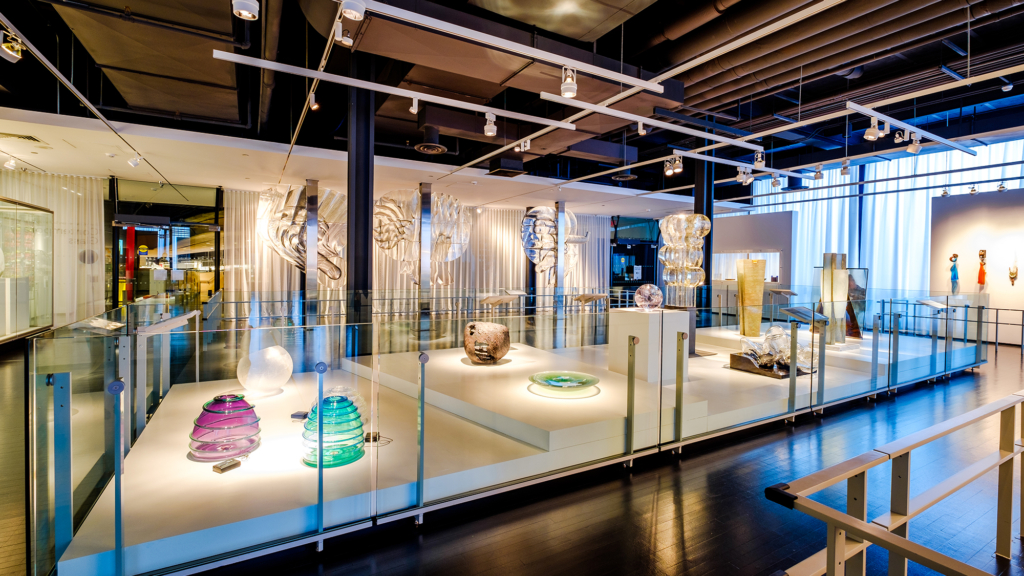 Date: June 6, 2023
Registration: Open for members (How to Book Your Trip)
Registration deadline: Thursday, May 18
The Corning Museum of Glass is the most comprehensive and celebrated glass collection in the world. It showcases 3,500 years of glass-making history, ranging from a small Egyptian Pharaoh head to works by Louis Comfort Tiffany, Dale Chihuly, Lino Tagliapietra, and an extensive collection of contemporary art by world-renowned artists. Maps will be provided. Workshops occur throughout the day. The museum also features a restaurant and a glass-centered gift shop. 
On the bus ride to Corning, Joyce Henri Robinson, Associate Director of Penn State's Palmer Museum of Art, will talk about the glass art collections at Corning and the Palmer Museum of Art.
Spend time in downtown Corning, NY, to discover The Rockwell Museum, which is housed in the Old City Hall, or stroll through the Gaffer District — named after a gaffer or master glassblower. The Gaffer District is home to over 100 boutique shops, art galleries, and studios, as well as craft beverage producers and restaurants serving fabulous food. Other sites of note include the Centerway Walking Bridge, constructed in 1927, a pedestrian walkway that spans the Chemung River and serves as a walking park with green lawns and perennial gardens, and Christ Church (33 E 1st St.), which features 85 Tiffany-stained glass windows in the sanctuary and intricate mosaic works within the church. An optional 40-minute Historic Building Walking Tour, led by Meghan O'Toole Tuazon, will be available for $15, payable on site. The tour will leave from the front of The Rockwell Museum at 2:15 p.m..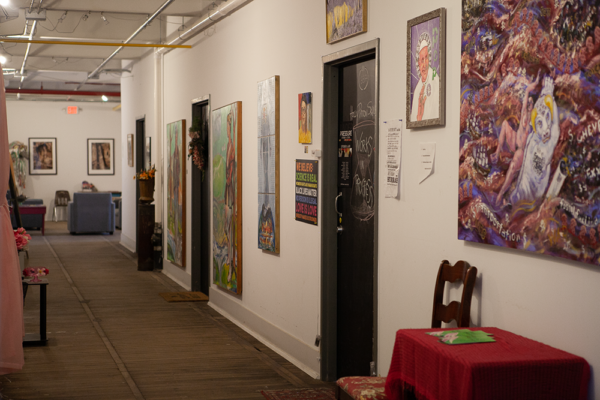 The Pajama Factory in Williamsport, PA, has been around for 150 years and was once home to the world's largest pajama factory. The 300,000 square foot complex takes up a city block. Rebuilt and repurposed by NYC architect and Pajama Factory owner, Mark Winkelman, it is a bustling center for art and entrepreneurship. Mark will join the trip to Corning, NY, and on the trip from Corning to Williamsport, he will describe the history of the Pajama Factory building, his incentive for its purchase, and his vision for the future. Tours of the building will be given by artists who have studios there. It will include viewing the large woodworking shop and large ceramics-making area that are available for the public (and tenants) to use. Penn State OLLI artists will have a display in the art gallery from June 1–July 22. Appetizers and beverages will be available.
Itinerary
7:00 a.m. — Depart Fullington Bus Garage
9:30 a.m. — Arrive in Corning, NY
10:00 a.m.–1:00 p.m. — Corning Museum of Glass (CMoG): displays and gift shop
Lunch on your own at CMoG, or later in downtown Corning
Free shuttle runs between CMoG and Tioga Avenue every 15 minutes
1:00 p.m. — Leave the Corning Museum of Glass
1:30 p.m. — Arrive in downtown Corning, NY
1:30–3:45 p.m. — Time on your own in downtown Corning
3:45 p.m. — Depart Corning for Williamsport, PA
5:00–7:00 p.m. — Pajama Factory, Williamsport
Reception with appetizers and soft drinks included
7:00 p.m. — Depart Williamsport
8:15 p.m. — Arrive in State College
Physical Requirements
There are stairs, elevators, and escalators in the Corning Museum of Glass; primarily stairs at Pajama Factory. The buildings are large, and seating may not be plentiful.
Meals
Lunch will be on your own in Corning. A cheese/appetizer reception will be provided at the Pajama Factory. You may bring snacks on the bus if you wish.
Cost
Members: $145
Nonmembers: $170
How to Book Your Trip
Registration is open for members. Registration for nonmembers opens on Monday, March 6.