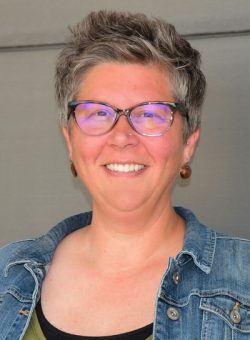 Marketing Coordinator, OLLI at Penn State University Park
Email: eth13@psu.edu
Emily Hoffman, marketing coordinator for OLLI at Penn State University Park, focuses on designing OLLI's marketing and promotional materials, monitoring social media and OLLI's online presence, and managing the brand image of OLLI.   
A graduate of Bloomsburg University with a degree in communication studies, Emily began her career in the marketing and communications industry, serving as a marketing coordinator for a large New York–based construction design firm. Returning to Pennsylvania to begin her married life, she served as marketing manager for a Centre County business and later supported work for an architectural firm.  
During the arrival and care of her children, Emily fostered her creativity with her own business, Be Colorful Designs, and during the fall of 2013 began working with OLLI as a freelance designer. In 2017, Emily joined OLLI on a regular part-time basis and increased her responsibilities.  
Emily enjoys her creative work and the personal interactions she has with OLLI members. When she's not creating OLLI's marketing materials, she enjoys reading, crocheting, and spending time with her husband, Jonathan; two children, Evan and Elise; and rescue cats, Grover, Ginger, and Glenn.