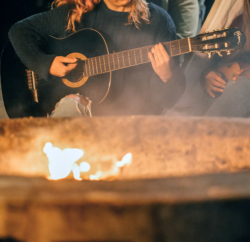 Enjoy the crisp autumn air at our last in-person social event before winter arrives.
Join the social committee and other OLLI members at "Friends by a Fire," where we'll gather around the fire pit, enjoy light refreshments, engage in good conversation, and even sing some songs (lyrics will be provided). Guitar and ukulele players are welcome to bring their instruments to provide accompaniment. (Please request chord sheets prior to the event.)
Head straight to the fire pit or join others for an optional brisk walk around the Grays Woods/Graysdale Park area.
Fee: $5.00
The rain date for this event is November 18.