OLLI trips — which range from one-day local excursions to multi-day international adventures — have an exceptional reputation because they are packed with unique learning and sightseeing opportunities, create camaraderie among trip participants, and always include great meal stops! Registration for OLLI trips opens to members first and then opens to nonmembers after two weeks.
Upcoming Trips
Hudson Valley, New York: A National Treasure
Dates: April 26–28, 2022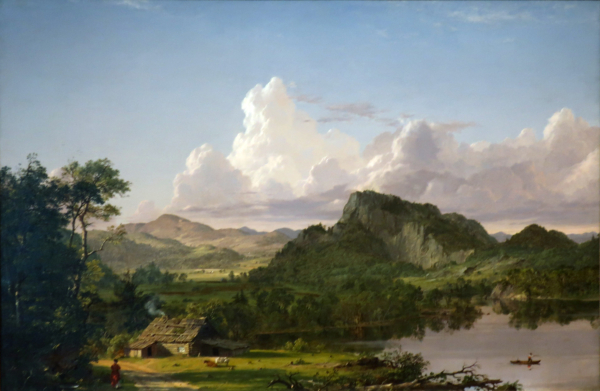 Join us for three action-packed and sensory-satisfying days of history, art, architecture, and culinary delights. Designated a National Heritage Area by Congress, New York's Hudson Valley has more major historic sites per square mile than any other area in the United States. With fabulous mansions of the Gilded Age, quaint river towns, world-class art museums, the valley is a national treasure.
Our three-day trip will include the following tours:
West Point
Our docent-led tour of West Point includes a historical overview from the start of West Point in 1778 as a military post during the Revolutionary War to the modern times of the United States Military Academy. View breathtaking scenery from West Point, which overlooks the Hudson River as it winds through the Hudson Highland.
OLANA
OLANA is the home of artist Frederick Edwin Church (1826–1900). The centerpiece of OLANA is an eclectic Orientalist-styled villa that overlooks parkland and a working farm that was designed by the artist. It was designated a National Historic Landmark in 1965.
Vanderbilt Mansion
The Vanderbilt Mansion, a National Historic Site in Hyde Park, NY, was a seasonal residence for Frederick and Louise Vanderbilt. Offering a glimpse into the Gilded Age, the house is a Beaux-Arts architectural masterpiece where no expense was spared.
Home of Franklin D. Roosevelt
Learn about the 32nd president of the United States and the fascinating Roosevelt era in American history. The home was where FDR was born and raised, and he returned to live there after marrying Eleanor in 1905. Perhaps a testament to how much they loved it there, both Franklin and Eleanor are buried on the grounds, surrounded by a tranquil rose garden. 
Cost (includes 2 breakfasts, 1 lunch, 2 dinners):
Members:
$500 with hotel double occupancy
$675 with hotel single occupancy
Nonmembers:
$525 with hotel double occupancy
$700 with hotel single occupancy
View full itinerary and register
Best of the Canadian Rockies: Calgary to Vancouver
Dates: August 1–14, 2022
Discover some of nature's most stunning creations on this comprehensive Canadian Rockies tour. Journey through the flat prairies of Alberta's cowboy country to the dramatic mountainous landscapes of British Columbia and the Pacific Coast. Travel from cosmopolitan Calgary to Vancouver, British Columbia's sparkling city by the sea, visit an Alberta cattle ranch, and embark on an exciting ride onto Athabasca Glacier aboard The Ice Explorer snowcoach.
Our itinerary brings you to destinations that allow you to more fully experience the best of the Rockies — such as discovering the natural splendor of Banff, tucked away in Alberta's mighty mountains, and the beautiful lakeside city of Kelowna where you'll set off on adventures like a visit to a local lavender farm.
This trip is currently full, but we invite you to join our waitlist by emailing axc3@psu.edu. If a reservation is canceled, individuals on the waitlist will be contacted in the order they were added.
Albuquerque Balloon Fiesta
Dates: September 29–October 4, 2022

Highlights of the trip include:
Santa Fe
Open-Air Tram Tour
Loretto Chapel
Santa Fe School of Cooking
Turquoise Trail
Balloon Fiesta
Old Town Albuquerque
National Museum of Nuclear Science & History
Indian Pueblo Cultural Center
The Albuquerque International Balloon Fiesta is a world-renowned attraction and destination. For more than four decades, the first week in October has brought the smell of roasting chiles and the beautiful, magical moving picture show of hot air balloons sailing silently through the crisp fall air. From its modest beginnings in 1972 with 13 balloons launching from a shopping mall parking lot, the Balloon Fiesta has grown to multiple events launching year-round at the custom-designed, 365-acre Balloon Fiesta Park. This signature event, with over 600 balloons, is the largest ballooning event on earth, the most photographed event on earth, and one of the largest annual international events held in the United States.
COVID-19 vaccination required. Effective immediately and until further notice, Collette Travel requires all guests to be fully vaccinated in order to participate in this tour. Although destination entry requirements may differ, if you are unvaccinated, you will not be able to join us on this tour. All guests are required to bring proof of vaccination (official vaccination certificate in paper) on tour.
Activity level: The overall activity level of this tour is a level 3. This means you're an on-the-go traveler. You don't want to miss a thing, so walking and standing for longer periods of time (1–2 hours) isn't a big deal. You can navigate hills and uneven ground, climb into various modes of transportation (tuk-tuk, cable car, Zodiac, etc.), and can adapt to changes in elevation. You can expect some longer days balanced with free-time to recharge or set out on your own adventure. This tour also involves traveling at high altitudes (approximately 7,000 feet/2133 meters) and may not be suitable for some travelers. We suggest that you consult your doctor if you have any concerns.
To request a printable version of this information, please contact the OLLI office at 814-867-4278 or email at olli@psu.edu.
Sicily 2023
The OLLI Travel Committee is thrilled to announce the planning of their next overseas trip to Sicily in mid-April of 2023.
As long-time OLLI traveler Marie Bianco noted, "The Sicilian culture is different from the rest of Italy. Over centuries the island has been invaded by the Greeks, the Romans, the Arabs, the Normans, and the French, so their heritage is a little bit of everything. The island is a paradise of blue skies, sandy beaches, majestic mountains, green valleys, and fertile land. There are few, if any, lawns to be found because the soil is so rich, it is used to plant food, not flowers."
Below is a summary of Grand Circle Travel's 2022 trip to Sicily. It is expected that OLLI's trip in 2023 will be substantially the same.
14 nights: 4 nights Taormina, 4 Siracusa, 2 Agrigento, 4 Palermo
25 meals: 14 Breakfasts, 4 lunches, 7 dinners
14 included features: 10 guided tours, 4 Discovery Series Events
Full details will soon be finalized by Grand Circle Travel (GCT). They will provide specific dates and prices in late December or early January 2022.
How to pre-reserve the Sicily 2023 trip and why:
Call 800-955-1925 and mention Group Code 29182.
Place a fully refundable $350 per person deposit. Any traveler who pre-reserves by 12/31/21 will be provided the Risk-Free Policy for 2023. This policy allows for last-minute changes without penalty. 
All traveler types, double and single occupancy, should place a deposit to ensure the chance to receive the maximum 10% Good Buy Discount. You need to place your deposit 15 months or more from departure to receive this discount.
When we receive final dates from GCT, OLLI will contact you and advise you to call into a special pre-reservation hotline to confirm.
Prices are TBD, but for budgeting purposes count on an estimated total of $4900. 
Trip Cancellation and Refund Policy
Local Trips or Those Planned by OLLI
A $25 cancellation fee plus any non-refundable down payment charges OLLI has incurred on the participant's behalf (admission fees, tickets, meals, transportation, etc.) will be retained by OLLI. The remaining balance of the trip fee will then be refunded.
If OLLI is able to find a replacement from a waitlist (please note that not all trips have a waitlist), only the $25 drop fee will be retained. The remaining balance of the trip fee will then be refunded. Participants who cancel their reservation for a trip with a waitlist may not find their own replacement.
Call the OLLI office to cancel your trip:
University Park: 814-867-4278
York: 717-771-4015
International Trips or Those Planned by a Travel Agency
Cancellation dates, fees, and penalties will vary by trip. Please contact the associated travel agency for information or to manage your travel account.