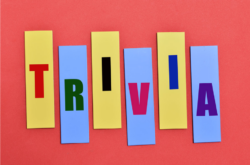 Join other OLLI trivia buffs for our latest online trivia competition!
Answers will be given in a multiple-choice format, but you will have to decide quickly as you'll only have 5 seconds to select your answer! You can play as a team if you'd like and ask anyone in your vicinity if you're stuck on a question.
Please note: You need a desktop or laptop computer or TWO iPads/Tablets. When the Social Committee was practicing, it was discovered that the game worked well on a computer but not a single iPad. However, if you have two devices — one to see questions and one to use for chat — you will be able to play successfully!
Free and online via Zoom. Registration for members only.