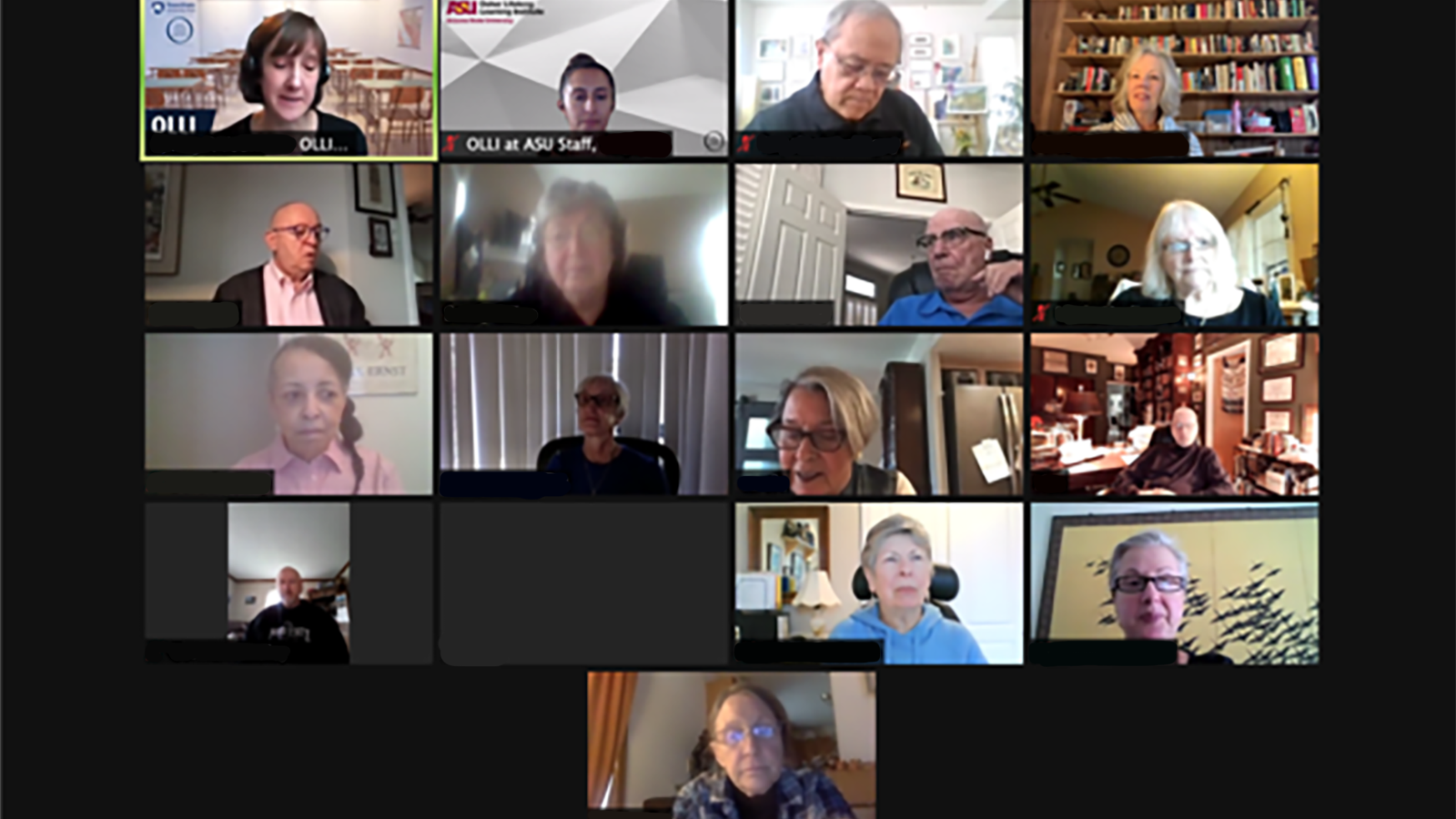 Feelings of isolation and depression ran strong for many people during the COVID-19 pandemic. For members of the Osher Lifelong Learning Institute (OLLI) — where stimulating courses, trips, and social activities are the mainstay — the sudden and limited social interaction left them at a loss.
The OLLI staff was challenged to find new ways to keep members connected.
Through many brainstorming sessions, a collaboration emerged between OLLI at University Park and OLLI at Arizona State University (ASU) to create a pilot program that connected a limited number of members from both organizations — while 2,000 miles apart. "The OLLI Zoom Buddy Program" quickly became the organization's online social hub during spring 2021.
Pat Stevens, a member of OLLI at University Park, was one of the first to volunteer.
"The OLLI Zoom Buddy Program appealed to me because my life became pretty narrow because of the pandemic," Stevens said. "The experience allowed me to meet someone from a totally different part of the country, and as it turned out, our lifestyles were very similar. We enjoyed telling stories and sending each other photos, and we shared many of the same concerns about staying safe during the pandemic."
Buddies met using Zoom, email, phone, FaceTime, and Google Meet and can continue for as long as they choose to do so.
"My favorite part of the program was that it had no structure, we could make it want we wanted it to be," Stevens said. "I recently traveled to botanical gardens in Hershey, Pennsylvania, and sent my buddy photos while I was there, so she could experience it as well. We usually don't share as many details with local friends, so in a way, our buddies become our pen pals."
Aimee Shramko, a member of OLLI at ASU, is Stevens' Zoom Buddy. She said she was surprised how easy it was to talk to a perfect stranger.
"I'm enjoying talking with Pat, and as things open back up, we have both talked about the travel programs OLLI offers," Shramko said. "It would be wonderful if we were interested in traveling to the same location and could meet in person. We both would like to attend the Albuquerque International Balloon Fiesta in New Mexico, so maybe we can make that happen."
Ginnie Miller, community enrichment coordinator for OLLI at ASU, said she knew from the care and consideration poured into the project that it would be a success.
"When we had our Zoom Buddy Mixer, we had a very lively gathering even though all participants couldn't be a part of it. Each member had a unique background that others in the group resonated with, it was a beautiful event — even online," Miller said. "Ray Sol, known as the 'OLLI at ASU Tai Chi Guy,' was his usual charming self and had already expanded his Zoom Buddy into a Zoom family by adopting other buddies to join their group before the mixer had ended. We are thrilled to be able to continue this partnership into the upcoming fall semester so more members can join in."
Spring Younkin, program specialist for OLLI at University Park, said this experience adds a new dimension to OLLI.
"The OLLI Zoom Buddy program creates a new outlet for socialization and fosters new friendships by connecting members through different OLLI locations across the country," Younkin said. "OLLI focuses on lifelong learning. The program adds another level for our members: lifelong friendships."
Stevens said she and Shramko will remain friends beyond the pandemic.
"I like Aimee, and we have a lot in common. We talk about our families; we are both interested in genealogy and travel, and as she mentioned, she is the only one in my life who is also interested in going to the hot air balloon festival in Albuquerque. Aimee encourages me to get out there more, so we may go."
OLLI at University Park and OLLI at ASU plan to continue the program. Based on participant feedback, updates to the registration process will be implemented and additional members will be invited to participate.
If you have questions about the program, contact Spring Younkin at ser126@psu.edu.