Article by Holly RiddleOriginally published in Happy Valley Industry | November 15, 2022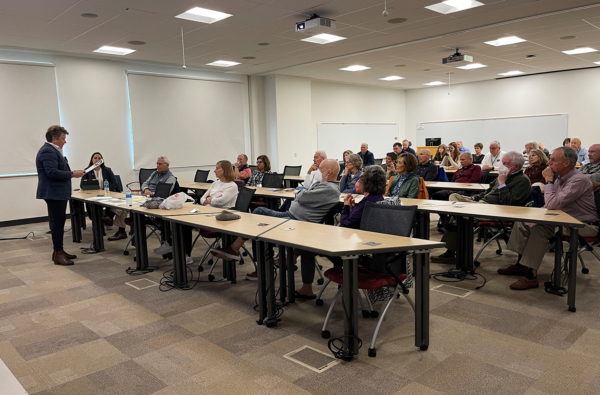 As HappyValley Industry has covered in the past, the region has no problem wooing retirees, especially Penn State alumni. The lively atmosphere, big-city amenities in a small-town setting and bountiful outdoor recreational opportunities are all strong attractants.
Many retirees, when discussing what they like most about living in Happy Valley, cite the many benefits that Penn State offers the broader community, beyond just students. The university brings in a dearth of entertainment and events. However, Penn State also offers one unique amenity that's entirely for seniors and seniors only: the Osher Lifelong Learning Institute, or as it's often simply referred to, OLLI.
Growing and evolving
OLLI is a membership-based organization that offers those 50 years old and up a roster of activities and educational opportunities at both Penn State's University Park and York campuses. OLLI provides social and special interest groups, educational courses without the stress of tests or grades, group travel opportunities, regional tours, events and more. A senior in the area could join OLLI and then find themselves in the hiking group or non-fiction book club, or in the "Traveling Lunch Bunch." They might take an in-person or online season-long course on cryptocurrency or mushroom cultivation, or, if they're qualified, volunteer to teach a course in their own area of expertise.
[OLLI] keeps me engaged in something that I dearly love.
Currently, OLLI boasts a membership of approximately 850 seniors and those numbers are increasing, according to OLLI director Brynn Mifflin Rousselin. "Our overall number of members did lower during the pandemic, however as people are getting back out into the community, we are seeing the number of members increase steadily," she said.
But while the pandemic brought its challenges — especially for the senior set — Mifflin Rousselin noted that the last two years have also helped OLLI evolve. She said, "We have certainly grown and improved since 2020, especially in regard to our online programming. We now regularly offer a full selection of in-person, online and hybrid — [with] members participating both in the classroom and remotely via Zoom — courses each term."
Some of the most popular OLLI courses, Mifflin Rousselin explained, focus on art, history, nature or science. However, hands-on and tour-based courses that connect members with other Penn State organizations and the broader community are also very popular.
"A stick of dynamite wouldn't get us to move now"
Tom Lechleitner and wife Jeanie Kim first learned about OLLI through a Penn State Extension Office newsletter and Tom said the two "got a membership pretty much right away."
"They've got a really great breadth of courses," said Tom, mentioning history courses, travel presentations and tours of the nuclear reactor on Penn State's campus as possible activity options. Tom was a Navy officer before he retired. He graduated from Penn State in 1988 and only returned to the area 30 years later, noting that one of the things attracting him and his wife back to Happy Valley was the area's wealth of outdoor recreation.
"Rothrock State Forest [is] right next to town. It offers, I think, something like a hundred thousand acres of forestland that's completely open to the public at no charge. They have world-class mountain biking races here. There are national-level running races. There's really a lot of outdoor events going on here," he said.
Tom called the move to Happy Valley "the best" he's ever made and that he doesn't "think a stick of dynamite would get [them] to move" away now.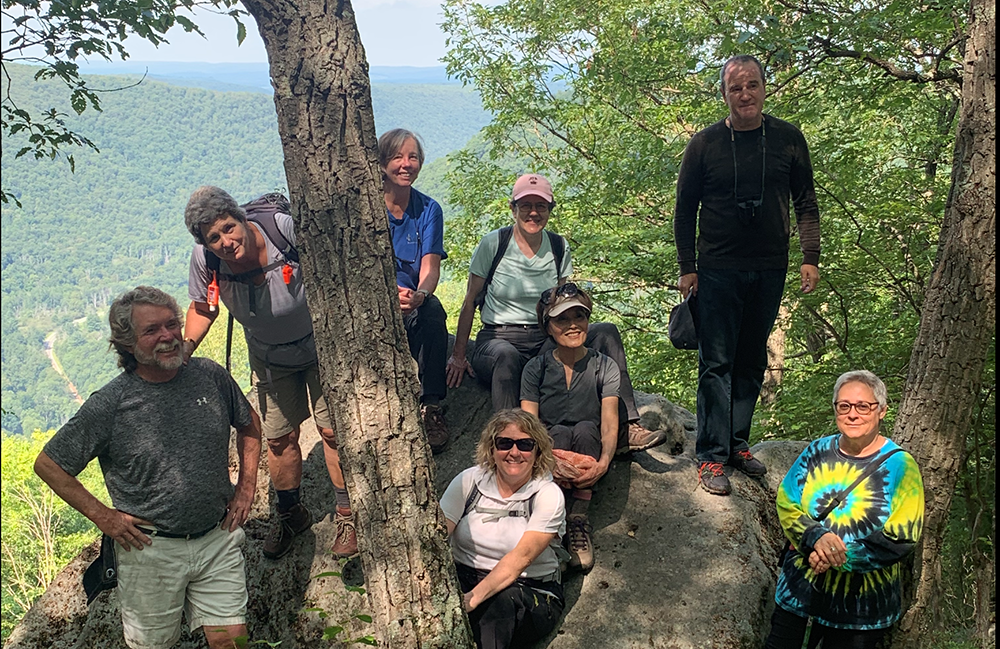 He also said that, since joining OLLI, Jeanie Kim, who is a Penn State Master Garden, has taken several horticultural classes, while he's focused on some of the local history courses. However, recently, Tom was inspired to teach his own course at OLLI, with the subject being a historic walking trip that he and Jeanie Kim took several years ago, in England.
"I thought it would be neat to share the experience with people who might be interested in doing it, or who just want to hear a little bit of the history. We walked along Hadrian's Wall, which … dates back to the year 122 [A.D.]. So, it provided a little historical context and some of the mechanics about how to do the trip," he explained.
Fellow OLLI member Ken Healy recounted a similar experience, both with getting involved with OLLI both as a member and instructor, and with moving back to Happy Valley. He and his wife moved to the State College area about six years ago and heard about OLLI shortly thereafter. Both are Penn State alums and they wanted to move to an area with more for senior citizens to do and greater vitality.
Healy teaches history courses through OLLI. He said, "My background and both my degrees — my bachelor's and masters — are in education and my background is in history, so I'm a great lover of history. One of the things on my bucket list that I've done is I've traveled to all 50 states in our country and so a lot of my historical presentations deal with U.S. history … I always try to tie in either a Pennsylvania component to the story that I'm telling or, even more closely, try to tie in central Pennsylvania. For example, I do a presentation on the Alamo and I make individuals aware there were 23 or 24 Pennsylvanians that died at the Alamo and eight of them were from Mifflin County."
As lovers of history and travel, Healy and his wife have taken several trips with OLLI, including a Christmas market tour of Germany and Austria. They have a French river cruise coming up in 2023.
"[OLLI] keeps me engaged in something that I dearly love, which is historical information and readings," Healy explained. "It allows me to maintain my skills as an educator, working with an older adult population and individuals like myself who are there to learn, because they want to learn, not because it's a required class."
There's just a vitality in this area.
Much like Tom Lechleitner, Healy said that he's very pleased he made the move back to Happy Valley, noting, "There's just a vitality in this area … a lot of that has to do with the youth population, [but] there are a lot of things that feed off of that, from businesses to restaurants to entertainment venues. It's something that we wanted to have in our lives."
Enhancing and enriching
OLLI membership is just $50 per person per year and that membership comes with access to all OLLI courses, social and special interest groups, various other Penn State activities, volunteer opportunities, discounts at Penn State events and more. Many first-time OLLI members, Mifflin Rousselin said, initially join so they can attend the various courses, but then, once they get involved, they stick around, cultivate friendships and enjoy the program's overall sense of camaraderie and community.
"OLLI is an open and welcoming organization for all and is a wonderful opportunity to connect with other curious adults who share a love of learning," said Mifflin Rousselin. "OLLI offers mature adults the opportunity to stay active, connected to their peers and intellectually stimulated. Our mission is to provide educational, social, travel and volunteer experiences for mature adults to enhance and enrich their lives."