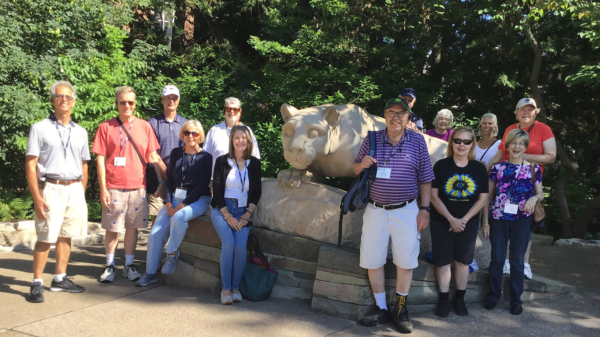 The Osher Lifelong Learning Institute (OLLI) at Penn State has an important mission to enhance the quality of life for mature learners by providing affordable educational programming and social enrichment opportunities that accentuate the joy of learning and personal fulfillment. This year marks the 25th anniversary of OLLI at Penn State. As a member-driven, volunteer-based community service organization, we have always been grateful to those who have supported OLLI with their time, talent, and treasure because it's their generosity that has made it possible for us to grow and offer high-quality experiences for all.
To honor and celebrate our 25th year of service, we are striving to raise $25,000 to sustain OLLI's current and future success. The generosity of OLLI supporters will strengthen our ability to continue providing a selection of up-to-date programs and keep annual dues and course fees low. Alice and Brian Clark were among the first OLLI members to donate to our Help Grow the "O" campaign. They shared, "We want to do our part to make sure OLLI at Penn State stays around for a long time to come. It's reassuring to know such a place for lifelong learning exists, and we feel very fortunate to have OLLI in our community, considering there are only 125 in the entire country. Having benefitted greatly from our involvement — educational programs, travel opportunities, interest groups, and new friendships — we hope that fellow OLLI members and the community are similarly enriched."
Can we count on you to invest in the future of OLLI at Penn State by making a gift today? Gifts of any amount go directly to OLLI's Program Enhancement Fund and will offset losses from a two-year pandemic; work immediately to enhance events, activities, and educational programs that benefit the OLLI community; and contribute to the longevity of our organization.
2022 Giving Levels
OLLI Supporter: up to $99
OLLI Friend: $100–249
OLLI Advocate: $250–499
OLLI Patron: $500–999
OLLI Champion: $1,000–1,499
OLLI Benefactor: $1,500–2,499
OLLI Ambassador: $2,500 and up
Ways to Give
Make your gift online or mail a check payable to "OLLI at Penn State" to 126 Outreach Building, University Park, PA 16802. Feel free to reach out to a member of the OLLI staff at olli@psu.edu or 814-867-4278 with any questions.
Having been educators in our work life, we value teaching and learning. We support OLLI because it embodies, in our retirement, those same values.