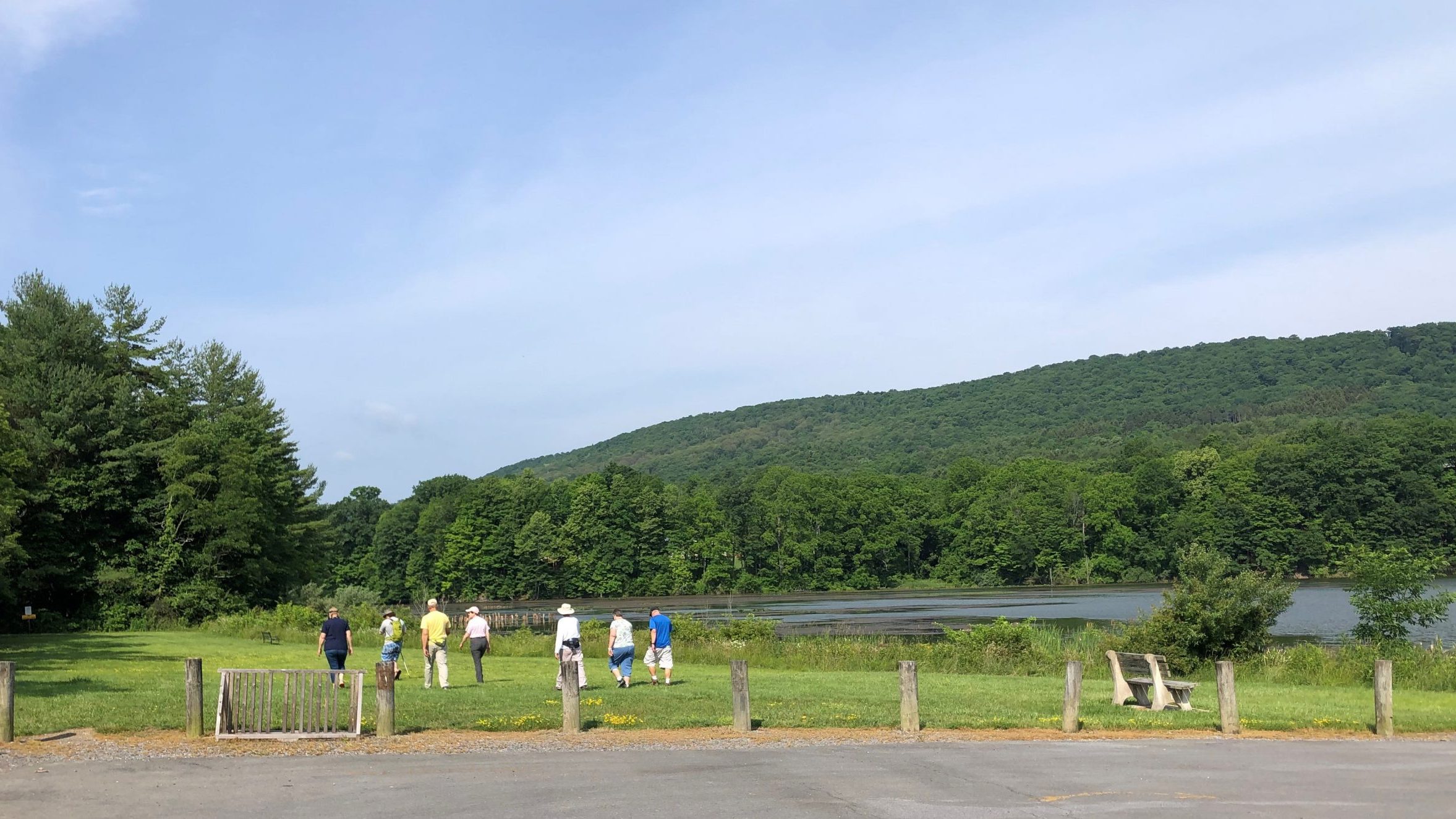 In June, a group of OLLI members attended a new outdoor recreation course at Colyer Lake, where they explored the walking trail that encircles the man-made beauty.
Located in Centre Hall, the lake and its trails host a variety of reptiles and mammals, as well as swallows and dragonflies.
"Instructor Dan Trew did an excellent job sharing his knowledge of the bird and frog sounds we heard on our walk around the lake," said Bernie Shockowitz, a course participant and member of OLLI.
Trew, who is an adventure coordinator at ClearWater Conservancy, talked about the ecology of lake ecosystems in Pennsylvania and how the forest's biodiversity is amplified by riparian areas. He also shared that, unlike a lot of lakes in the area, Colyer Lake wasn't built by the Civilian Conservation Corps or part of a larger industrial camp.
"I learned how the bottom of the lake has the coldest water with the most oxygen," said Deb Smith, a course participant and member of OLLI. "Then, in the spring and fall, as the temperatures are changing, the lake undergoes 'turn over' and the cold water moves to the top, carrying sediment and making the lake muddier for a while."
In 2014, the lake was drained to make crucial repairs to its dam. During that time, the Fish and Boat Commission made additional improvements to the lake, such as installing underwater habitat structures to help support fish and other aquatic wildlife. Once the repairs were finished, the lake was refilled and stocked with several warm water fish species.
"Locals invested in the trail around the lake, showing the state that there was interest in recreation here, so the state repaired the dam," Shockowitz said.
It was also Shockowitz's first visit to Colyer Lake in over 50 years of living in the area.
"It's a beautiful place and I plan on returning!" he said.
Read "Lovely Lakes," an article written by Trew, to learn more about the different processes, habitats, and features of lakes in Pennsylvania.
"This was a wonderful hike," Smith said. "I would sign up for anything that Dan would lead!"