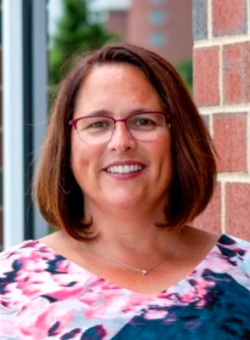 Director, OLLI at Penn State
Email: bmr15@psu.edu
Brynn Rousselin is the director of OLLI at Penn State, providing leadership to both the University Park and York offices. Her career, which spans more than 20 years and has included a significant concentration in adult learning, has fueled her belief in lifelong learning and its impact on our sense of purpose, path, and passions. Her holistic approach to learning incorporates effective methods and relevant content, fosters relationships, and ensures the learner's voice drives the experience. She joined Penn State in 2008, holding various roles focused on strategic planning, budget management, and learning and development, and she accepted the Director of OLLI at Penn State position in late 2019.  
Brynn holds a bachelor's degree in Spanish with a concentration in education from the College of Wooster, a Master of Education from Temple University, and certification as an executive and leadership coach.  
She and her husband enjoy gardening, traveling, and supporting their children's passions; both children are Penn State undergraduate students. Together they are avid Penn State sports fans.