OLLI at Penn State University Park offers more than 300 courses each year — no homework, no grades, no tests — solely for the love of learning! 
Fall 2021 Semester (Sept 7–Nov 12)
Fall 2021 Courses Member Login
---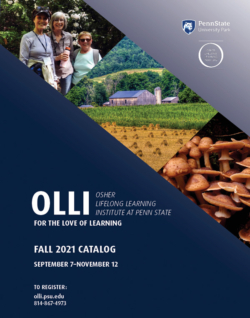 Printable Catalog: Fall 2021 Course Catalog (PDF) / Schedule at a Glance (PDF)
Register by Mail (Members Only): Printable Course Registration Form (PDF)
You can mail the form as soon as you make your course selections. Forms will be kept in the order they are received and processed when registration opens.

Register by Phone (Members Only): Call our Noncredit Registration Office at 814-867-4973
More Information