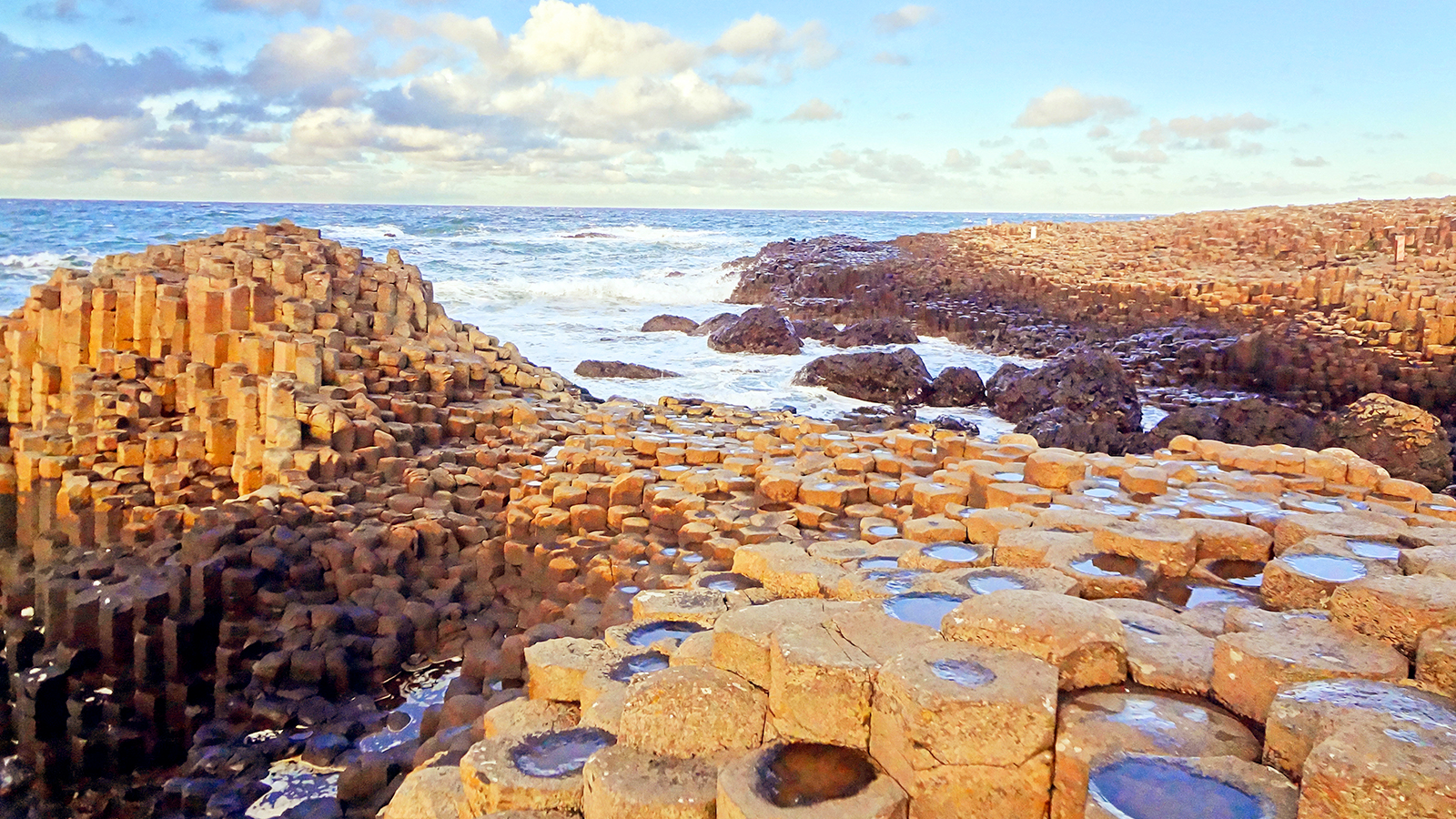 Dates: August 29–September 10, 2024
Registration: Open (How to Book Your Trip)
Registration deadline: February 28, 2024 (to receive discount)
As part of the United Kingdom, Northern Ireland offers a different experience than its namesake. From the stunning lakes of Fermanagh to an overnight stay in a regal manor, Northern Ireland will feel otherworldly. Take in the lively city of Derry, venturing within the towering stone walls that encircle centuries of history. Experience Belfast, Northern Ireland's capital. The city is filled to the brim with local history – known to be the site where the infamous Titanic was built – and bustling with modern energy. Marvel at a land of rolling hills and verdant green valleys at the Glens of Antrim, where the horizon stretches for nine valleys. Stand in awe at Giant's Causeway, where 40,000 interlocking rocks form hexagonal footstones fit for a giant. The hardened-lava structures reach a height of 39 feet in some places, providing an ethereal quality to the out-of-place landscape.
Itinerary
13 Days, including 17 meals (11 breakfasts, 6 dinners)
The overall activity level of this tour is a level 2. This means you like a balanced approach to travel. Walking two to three miles over the course of a day is no problem for you. You can partake in a two-hour leisurely walking tour, covering up to two miles (with included breaks). You can handle a variety of terrains, from cobblestone streets to moderate hills with relative ease and without assistance. You can climb two flights of stairs with ease. There may be 1 to 2 days on this tour when walking tours can cover 3 to 4 miles over uneven terrain. Expect some full days balanced with free time to recharge or set out on your own adventure. You can handle altitudes up to 6,000 feet. While this level is appropriate for travelers that require mobility assistance devices, there could be times when you may have to sit out on some of the included activities.
Highlights include: Dublin, Irish Evening, Dublin City Bus or Walking Tour, Kilkenny, Waterford, Waterford Crystal Factory or Waterford Medieval Museum and Wine Vault, Blarney Castle, Boat Tour, Ring of Kerry, Cliffs of Moher, Farm Visit, Galway, Donegal Town, Derry, Giant's Causeway, Glens of Antrim, Belfast, "Titanic Experience"
Day 1: Overnight flight
Day 2, 3: Dublin
Day 4: Waterford
Day 5, 6: Killarney
Day 7: Ennis
Day 8: Enniskillen
Day 9, 10: Londonderry
Day 11, 12: Belfast
Visit Collette Travel's website for the detailed itinerary
Cost per Person
Book Now* and save $150 per person:
Double $5,649 ($5,499)
Single $6,449 ($6,299)
Triple $5,599 ($5,449)
Included in cost: Round-trip air from Newark International Airport, air taxes and fees/surcharges, hotel transfers
Not included in cost: Cancellation waiver and insurance of $449 per person
*Book Now rates valid until February 28, 2024, on air inclusive packages only. For bookings made after February 28, 2024, call for rates.
Additional Information
For information on extensions and options for this tour, please visit the Collette website.
How to Book Your Trip with Collette Travel
To book your trip by phone, please call 1-800-581-8942 and refer to booking #1157114.
To book your trip online, please visit Collette Travel's website.
A deposit of $698 per person is due upon reservation. Reservations are made on a first-come, first-served basis. Reservations made after the deposit due date of February 21, 2024, are based upon availability. Deposits are refundable up until February 28, 2024.
Final payment due by June 30, 2024.
All rates are subject to change.