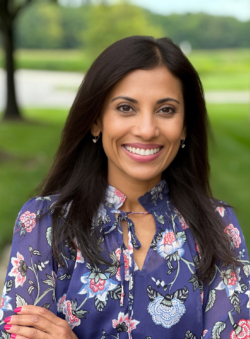 Program Enrichment Coordinator, OLLI at Penn State University Park
Email: pnh2@psu.edu
Parvathy Hughes, the program enrichment coordinator for OLLI at Penn State, has over 20 years of experience in strategic marketing communication. Parvathy, a lifelong learner, is passionate about creativity and innovation and is committed to empowering others, fostering their growth, and championing collaborative endeavors. Parvathy deeply values her local community and the resources, support, and opportunities available to OLLI members. She believes that trust and collaboration are the foundation of fostering deeper community engagement.
Prior to joining OLLI at Penn State, Parvathy dedicated 6 years to marketing in the real estate industry, most notably as the marketing director and HR manager for a Pennsylvania-based title settlement company. In this role, she successfully implemented innovative strategies to elevate the brand and client experience and effectively boost revenue and sustained growth.
Upon finishing her undergraduate studies at the University of Pittsburgh and earning a master's degree in communications and public relations from Point Park University, Parvathy started her career in broadcasting as a news producer and voice-over talent for radio stations in both small and large markets. She also worked in corporate communications for a globally recognized weather media company, a professional hockey team, and a national nonprofit organization. After relocating to State College in 2005 from Pittsburgh, she worked in various departments at Penn State, including five years as a scheduling assistant at University Health Services.
Parvathy considers her greatest accomplishment as being a mother to her three daughters, Alexandra, Meghan, and Caroline. She enjoys traveling, hiking with her dogs, and attending sporting events in Pittsburgh and Penn State. Parvathy is a proud supporter of several nonprofit organizations. She currently serves on the marketing communications committee for the Jared Box Project and is a member of the allocations committee for the Bob Perks Fund, a nonprofit organization helping those in need of assistance due to a cancer diagnosis.